Hehe for the naming of this nailpolish..
Shiny I guess on-stage purple. Seems kinda dressy.
Anywho, Sally Hansen Hard As Nails (w/ nylon) #35 Applause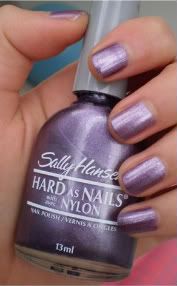 Again, Sally Hansen does it again lol. Cheap good. =)
It looks fancy and I used to love this color when I was in grade 8 or so.